The road to authorhood is one paved with admin.
Mostly, it's a lot of sending emails and coordinating schedules, but every so often there are some fun tasks sprinkled in among the mundane.
I told myself I would make the very most out of all of these glimmers of glamour, but so far I've done a rather poor job of living in the moment.
I had been excited for this one.
My most recent headshot was taken against the blankest of walls in our Walkinstown apartment during the height of Covid. I had long brown hair, a fringe, a collar, glasses-free blue eyes and a smile. The photo is pretty but it looks nothing like the person I am today.
It was devoid of colour and screamed formality. It was the perfect profiler for LinkedIn and at the time it looked good on my website. But it's long overdue for an update.
My author photo is a selfie
I don't have the budget for professional headshots yet, and I tend to take better selfies anyway. I clam up in a proper photoshoot situation, so the photos always come out beautifully lit but starring an uncomfortable-looking subject.
But still, I decided to treat the occasion with gravitas. I strategically chose an outfit and backdrop with the help of my wife and I planned to give myself ample preening time to get my hair and makeup right. I would put on some confidence-boosting music, maybe pour myself a flute of something fizzy and enjoy the fact that I was taking my author photos.
These are the photos I had been dreaming of, yet failing to envision, since childhood. They had to live up to the decades-long hype.
But when the day came, I was too sick to give myself all the time and luxury I had wanted.
Worse still, I was on a deadline. I was due to appear on a radio show later that week and they needed images for socials. Struggling with nausea and a feeling of general wrongness, I decided to just send a few pics from my phone's gallery. I quickly got the feedback that they needed something more formal and they needed them within the next hour or so.
My options were to dust off the aging Covid selfie or to power through my illness and take some photos that I'd be happy to use as my official author photos. I opted for the latter, but it was tough.
I had to keep a lined pot on hand in case the nausea morphed into vomiting, but I somehow managed to shower, do basic hair and makeup, get dressed into the pre-determined outfit and take a few passable selfies against a sky blue backdrop.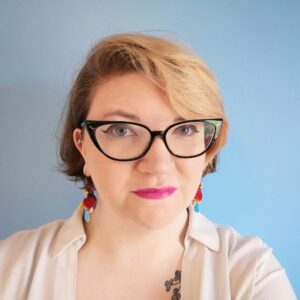 That backdrop, by the way, is in our downstairs wheelchair accessible bathroom, which also happens to be our rabbits bedroom and, at that moment, was due to be cleaned. In my sickness I had also slept through my dog's requests to go outside, so there were a few accidents to clean up elsewhere in the house as well, but there was no time. The radio station needed the images.
(I should point out that normally my wife would let the dog out during one of my sick spells, but this was a rare occasion when she had other commitments and I was home alone with the animals. This was an ill-timed one-off incident.)
So my glamourous author photoshoot took all of about a half-hour between showering, hair and makeup and the actual photo-taking. And I was literally surrounded by dog pee and rabbit poop the entire time.
The photos themselves turned out well and I look perfectly bright-eyed and healthy. In fact, you'd never know I was sick.
It's not exactly how I envisioned the photoshoot for my author headshots, but it's one damn good metaphor for masking depression.
As soon as I leaned I was going to be doing a radio interview to talk mental health and all things Dear Blue, I knew I had to really milk the opportunity. I drafted a press release the day the interview was confirmed and I got my editor to take a look at it before sending it out to a few local news outlets.
Fortunately, I've had a little bit of experience with press releases from my college days and from when I worked at GCN. When I was the chairperson of the radio society I had to send a press release to our local paper and, as GCN's online content creator, I received press releases on a daily basis. So I knew the basics and, with some feedback from my editor, managed to write a decent press release.
It amounted to coverage from my beloved and trusty GCN, which was a real confidence boost. And I have to admit, even though I knew the odds of coverage from multiple outlets were slim, it felt really good to write that press release.
It made the whole thing feel real, and hopefully it's just the first press release of many.
As previously mentioned, I was invited to make an appearance on The Marlon Show to talk about my book and all things mental health. Marlon is a close personal friend and former-colleague from my time at GCN, so I knew exactly what I was getting into and I was excited for it.
But! I was also incredibly nervous and doing my best to keep those nerves buried.
Historically, a presentation CA was enough to send me back to counselling, contemplating running away from third level education forever. I had to work very hard to overcome those stage-fright demons and they never fully left me. I just learned to disguise them. Now when I stand up to speak in front of a group I no longer tremble or stutter or go bright red. I just flub a word occasionally and it all looks very civilised on the outside, while I'm cringing to death on the inside.
Still though, excitement and anxiety bubbled in tandem and I could focus on little else from the moment I got a date for the interview. My brain wasn't equipped to handle the revisions which are still very much pressing and on the day I couldn't eat or rest until it was all over.
Despite the inner-turmoil of it all, I got through the interview and got some really positive feedback. I used the platform to formally announce the Dear Blue publication date and I announced that Peter Dunne has come on board as my professional editor.
Getting to chat to Marlon and the feeling of having done the radio interview were both absolutely fantastic. One could even say I felt like I was Walking On Sunshine, which was fittingly the hour's opening track. Truly, it was a wonderful experience and I just wish I had been more present for it.
However, I left the radio station with a pretty bad headache and a general feeling of collapse within my body. By the time it was over, it felt like I had run a half-marathon.
Progress isn't a straight line
In short, it's all been great, but it's been a lot.
I wish my mental health demons could have left me alone long enough to fully enjoy the radio interview and the author photoshoot as much as I should have. But, in both cases, even though I wasn't all there, I got through it and did what I had to do.
As always, this is a true mark of progress for me. I'm functioning again, and I can't think of a better use of my energy than to help get this book out to the world.
Plus, I'll forever enjoy the anecdote that my author photos for my mental health novel were taken moments after being bedbound by the physical symptoms of depression!
Now that the excitement of all those glamourous little stress-filled moments has come and gone, I'm left with a looming deadline and little progress made on Dear Blue's revisions.
So, without further ado, I'm off to kill my darlings and hack my novel to pieces. Wish me luck.